---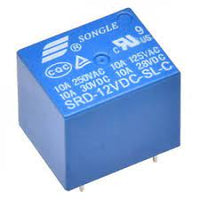 Introduction :
12V DC Relay (Songle) is high quality power relay.

12V DC Relay (Songle) used where it is necessary to control a circuit by a low-power signal (with complete electrical isolation between control and controlled circuits), or where several circuits must be controlled by one signal.
Features :
Coil Voltage : 12V.



Pin : 5pins.


R

ated load :(

10A 250VAC / 10A 125VAC )(10A 30VDC / 10A 28VDC).



Coil power : 0.36W, 0.45W.

Coil pick-up voltage : <=75%..

Insulation resistance : >=100M ohm .

Coil drop-out voltage : >=10%.

Temperature : -25 °C to +70 °C.

Coil and contacts : 1500VAC/min.

Contact and contacts : 1000VAC/min 

Mounting form : PCB.


Outline dimensions :

9mm x 15.5mm x 15mm.