---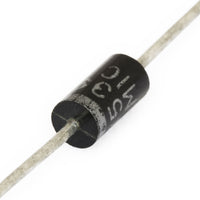 Introduction :
The 1N5399 is a Standard Diode with axial leads, molded plastic case and color band denotes cathode end polarity.
Solderable terminals as per MIL-STD-202, method 208 standard. 70V Maximum RMS voltage.
1000V Maximum DC blocking voltage. 10V Maximum instantaneous forward voltage at 1.5A.
Features :
Model : 1N5399
Max current : 1.5A.
Peak Reserve Voltage : 1000 V.
Mounting : Through Hole.
Pin Count : 2.