---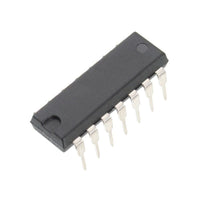 74HC10 is a triple 3-input NAND gate.
Inputs include clamp diodes that enable theuse of current limiting resistors to interface inputs to voltages in excess of VCC.
Features :
Logic Type: NAND.
Propagation Delay Time: 95 ns at 2V / 16 ns at 6V.
No. of Gates:3 .           

Output Current: 5.2 mA at  6 V .
No. of Inputs: 3X 3 .
No. of Pins: 14.
Operating Temperature Range: -40°C to +125°C.
Supply Voltage Range: 2V to 6V.
Package: DIP-14   .