---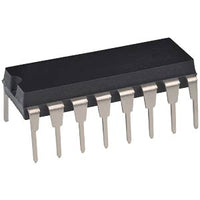 Introduction :
 74HC153 is a dual 4-input multiplexer. The device features independent enableinputs (nE) and common data select inputs (S0 and S1).
For each multiplexer, the select inputsselect one of the four binary inputs and routes it to the multiplexer output (nY). A HIGH on E forcesthe corresponding multiplexer outputs LOW. Inputs include clamp diodes.
This enables the use ofcurrent limiting resistors to interface inputs to voltages in excess of VCC.
Features :
Propagation Delay Time: 145 ns, 25 ns.
Output Current: 5.2mA.
No. of Pins: 16.
Operating Temperature Range: -40°C to +125°C.
Supply Voltage Range: 2V to 6V.
Package: DIP-16.