---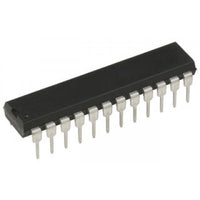 Introduction :
74HC154 (4-to-16 Decoder/Demultiplexer).
74HC154 is a 4-to-16 line decoder/demultiplexer. It decodes four binary weightedaddress inputs (A0 to A3) to sixteen mutually exclusive outputs (Y0 to Y15). The device featurestwo input enable (E0 and E1) inputs. A HIGH on either of the input enables forces the outputsHIGH.
The device can be used as a 1-to-16 demultiplexer by using one of the enable inputs asthe multiplexed data input. When the other enable input is LOW the addressed output will followthe state of the applied data. Inputs include clamp diodes.
This enables the use of current limitingresistors to interface inputs to voltages in excess of VCC
Features :

Logic Type: decoder / demultiplexer.
 No. output channels: 16.

Supply Voltage Range: 2V to 6V.
Package Type: DIP 24.
Operating temperature range: -55 ° C to +125 ° C.
Supply Voltage: 6V.
The minimum supply voltage: 2V.
Surface Mount Devices: through-hole mounting.
Output Current: 5.2mA.