---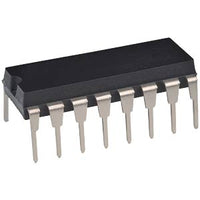 Introduction :
74HC157 (Quad 2-input Multiplexer).
74HC1457 is a quad 2-input multiplexer. The device features select (S) and enable E inputs. A HIGH on S selects data source 1, a LOW data source 0. A HIGH on E forces all the outputs (1Y to 4Y) LOW. Inputs include clamp diodes
. This enables the use of current limiting resistors to interface inputs to voltages in excess of VCC.
Features ;
Supply voltage : 2-6 v.

Low input current : 1 mA.
Temperture range : 40 °C to +125 °C.
Noise Immunity : NIL = 30%, NIH = 30% of VCC at VCC = 5V.
Package Type: DIP 16.