---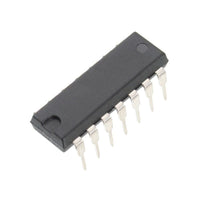 Introduction :
74HC20 is a dual 4-input NAND gate. Inputs include clamp diodes. This enables the use of current limiting resistors to interface inputs to voltages in excess of VCC.
Features :
 supply voltage range 2.0 V to 6.0 V.
CMOS low power dissipation.
Latch-up performance exceeds 100 mA per JESD 78 Class II Level B.
CMOS input levels.
Temperature range :-40 °C to +125 °C.
Package Type : DIP 14.