---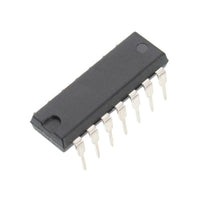 Introduction :
74HC86 is a quad 2-input EXCLUSIVE-OR gate. Inputs include clamp diodes. Thisenables the use of current limiting resistors to interface inputs to voltages in excess of VCC.
Features :
Logic Type :Quad 2-Input EXCLUSIVE-OR Gate.

Operating voltage range: 2–6V.
Low input current: 1 µA maximum.
High Noise Immunity Characteristic of CMOS Devices.
Logic Case Style: DIP.
No. of Pins: 14.