---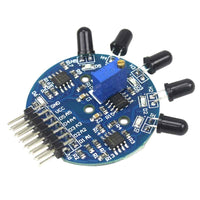 Introduction :
Advanced Flame Sensor 5-channel flame fire sensor module with wide detection range, about 120 degree.

Advanced Flame Sensor detects the fire with 5 flame sensors which are arranged with 30 degrees.
This module outputs analog signal, which would be more precisely, and also digital signal which would be more easy to use,.
you can adjust the digital output sensitivety by the on-board potentiometer.
Features :
Voltage :3.3V~9V.
Output : Analog output+Digital output.

Detecting range: >120 degree

.
Pin connections :
GND:   Ground.

VCC:   Input voltage (3 : 9v).

A1, A2, A3, A4, A5:  Analog output.

D1, D2, D3, D4, D5: Digital output.