---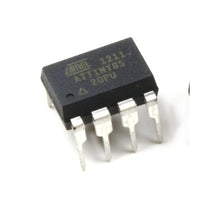 Introduction :

ATtiny85 8-Bit Processor. 8K of program space, 6 I/O lines, and 4-channel 10 bit ADC. Runs up to 20MHz with external crystal. Package can be programmed in circuit.
Features :
Controller Family : AVR Tiny.

Core Size : 8bit.

No. of I/O's : 6.
Program Memory Size : 8KB.
EEPROM Memory Size : 512Byte.
RAM Memory Size : 512Byte.
CPU Speed :  8/16 MHz internal clock, up to 20MHz external clock.
No. of Timers : 2.
Peripherals:ADC, Comparator.
No. of PWM Channels : 4.
Digital IC Case Style : DIP.
Supply Voltage Range : 2.7V to 5.5V.
Operating Temperature Range : -40°C to +85°C.
No. of Pins : 8.