---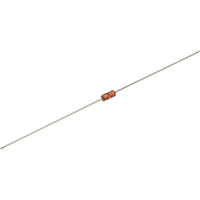 Introduction:
 Axial Thermistor 100k Ohm (NTC) metal oxide material made semiconductor ceramic NTC chip hermetically sealed in DO35 glass shell,with axial tinned  wire.
 It used for temperature sensing measurement detection, indicator, monitoring, gauging, control, calibration and compensation upto 300°C. 

Features :



:DO-35.




: 3892K .




: Through Hole .




Th: Axial Leaded .

Operating Temperature Range :-55°C to  300°C.