---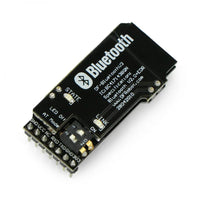 Introduction :
DF-BluetoothV3 Bluetooth module uses a unique double-board design,
it is beautiful and aim to prevent electrostatic damage to the module.
It is designed to have 2 DC power input, wide voltage supply (3.5V ~ 8V) and 3.3V power supply, suitable for various applications. STATE LINK is indicated by a clear and bright LED which is used to display module status and connection status (STATE state: Search state (high 104ms 342ms 2.9Hz cycle flicker) connection status (high 104ms period 2s 0.5Hz flashing), LINK state: paired ). 
It has build-in on-board antenna which provides high quality signals. 
DIP switch is designed to set the module status, LED Off to turn off the LINK light to enter power saving mode, AT Mode allows the module to enter AT command mode, AT commands can modify the baud rate and the master and slave mode.
This module can also be used as a pair which provides a transparent serial data communication.  
Features :
The Bluetooth chip: CSR BC417143 
Bluetooth protocol: Bluetooth Specification v2.0 + EDR 
USB Protocol: USB v1.1/2.0 
Operating frequency: 2.4 ~ 2.48GHz unlicensed ISM band 
Modulation: GFSK (Gaussian Frequency Shift Keying) 
Transmit Power: ≤ 4dBm, Class 2 
Transmission distance: 20 ~ 30m in free space 
Sensitivity: ≤-84dBm at 0.1% BER 
Transfer rate: Asynchronous: 2.1Mbps (Max) / 160 kbps; Synchronous: 1Mbps/1Mbps 
Safety features: Authentication and encryption 
Support profiles: Bluetooth serial port 
Serial port baud rate: 4800 ~ 1382400 / N / 8 / 1 default: 9600 
LED indicator: STATE state: Search state (high 104ms 342ms 2.9Hz cycle flicker) connection status (high 104ms cycle 2s 0.5Hz flashing), LINK Status: Always after match 
Input Voltage: +3.5 V ~ +8 V DC and 3.3V DC/50mA 
Working temperature: -20 ℃ ~ +55 ℃ 
Module Size: 40 × 20 × 13mm(1.6×0.8×0.5'')