---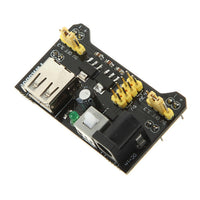 Introduction :
This is a Breadboard Power Supply Module 3.3V/5V with a multi-purpose female USB connection and two independent power lines that may be tuned to a 5V or 3.3V output voltage or turned off completely. 
The ON/OFF switch on the module is used to turn it on and off.

The Breadboard Power Supply Module 3.3V/5V securely fits in a typical 400 or 800 tie points breadboard, and it also has reverse polarity protection.
It accepts 6.5V to 12V input and outputs 3.3V and +5V.
Features :
Power Supply comes with On/Off Switch
Green LED power indication
Built-in protection against short-circuit through power limiting circuitry
compatible with 5V, 3.3V
Input Voltage: 6.5-12V (DC) or USB power
Output voltage: 3.3V, 5V
switchable Maximum Output Current: <700ma
The two-way independent control
The output voltage can be switched to 0V, 3.3V, 5V
On-board Two sets of 3.3V, 5V DC output pins, which lets you connect directly to external circuits and to multiple breadboards.