---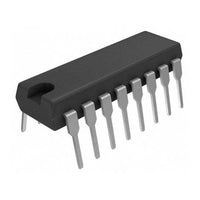 Introduction : 
CD 4011 is a quad 2-input NAND gate.
The outputs are fully buffered for the highest noise immunity and pattern insensitivity to output impedance. I
t operates over a recommended VDD power supply range of 3 V to 15 V referenced to VSS (usually ground).
Unused inputs must be connected to VDD, VSS, or another input.
Features :
5V–10V–15V parametric ratings.
Symmetrical output characteristics.
Maximum input leakage 1 A at 15V over full temperature range.