---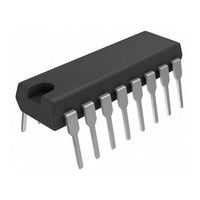 Introduction : 
CD 4053 Triple 2-Channel Multiplexer Demultiplexer are digitally-controlled analog switches having low ON impedance and very low OFF leakage current.
These multiplexer circuits dissipate extremely low quiescent power over the full VDD – VSS and VDD – VEE supply-voltage ranges, independent of the logic state of the control signals.
Features :
Wide Range of Digital and Analog Signal Levels.
Low ON Resistance,125 Ω (Typical) Over 15 VP-P .
Signal Input Range for VDD – VEE = 18 V.
High OFF Resistance, Channel Leakage of ±100 .
pA (Typical) at VDD – VEE = 18 V.
Binary Address Decoding on Chip.
5 V, 10 V, and 15 V Parametric Ratings.
100% Tested for Quiescent Current at 20 V.
Maximum Input Current of 1 µA at 18 V Over Full.
Package Temperature Range, 100 nA at 18 V and 25°C.