---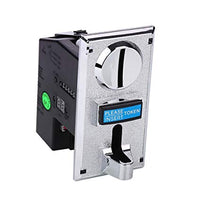 Introduction :
The sensors in this coin acceptor use the thickness, diameter and fall time of the coins to identify them and it's fully programmable so you're not limited to any particular type of currency.
Use the buttons and 7-segment display on the side of the unit to select a coin profile, insert a bunch of coin samples (or the same one, over and over) and you're good to go.
After you've programmed the coin profiles, the coin acceptor will recognize them and report when each type is inserted, rejecting other coins.
This coin acceptor also has a coin inhibitor, so your controller can tell the coin acceptor not to take any more coins.
All you need to get the coin acceptor working is a pocket full of change, a 12VDC supply and somewhere for the change to fall after it's accepted.
Features :
Operating Voltage: 12 V.

Applying coin diameter: 15mm-29mm

Applying coin thickness: 1.8mm-3.0mm

Size: 12.3*6.3cm/4.84*2.48in

dentity speed: 0.6 second

Working current: 50mA