---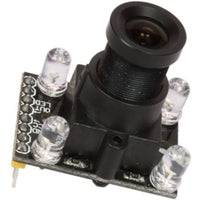 Introduction:
The sensor has four different types of filter covered diodes. In the 8 x 8 array of photodiodes, 16 photodiodes have Red filters, 16 have Blue filters, 16 have Green filters and the rest 16 photodiodes are clear with no filters. Each type can be activated using the S2, S3 selection inputs. Since each photodiodes are coated with different filters each of them can detect the corresponding colours. For example, when choosing the red filter, only red incident light can get through, blue and green will be prevented. By measuring the frequency, we get the red light intensity.  Similarly, when choose other filters we can get blue or green light.
Arduino compatible TCS3200 color sensor module consist of a TAOS TCS3200 RGB sensor chip and 4 white LEDs. The main part of the module is the TCS3200 chip which is a Color Light-to-Frequency Converter. The white LEDs are used for providing proper lighting for the sensor to detect the object colour correctly. This chip can sense a wide variety of colours and it gives the output in the form of corresponding frequency. This module can be used for making colour sorting robots, test strip reading, colour matching tests.
NB:Focusable lens provides a sharply-defined field of view and increase detection distance .          

Connections: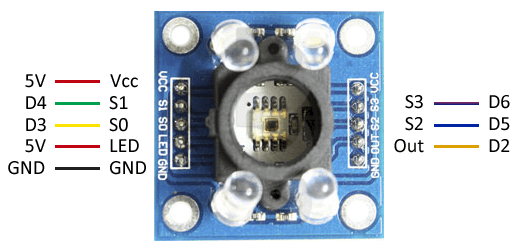 Features:
Compact design

Focusable lens provides a sharply-defined field of view and increase detection distance



Power Down Feature
High-Resolution Conversion of Light Intensity to Frequency
Programmable Color and Full-Scale Output Frequency
Communicates Directly With a Microcontroller
Single-Supply Operation (2.7 V to 5.5 V)
2.54mm pitch connector pin-out
Best detection distance: 1cm
Applications:
Test strip reading
Sorting by color
Ambient light sensing and calibration
Color matching