---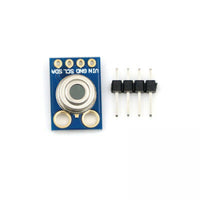 Contactless Infrared Temperature Sensor (MLX90614) is an Infra Red thermometer for non contact temperature measurements.
Simply point the sensor towards what you want to measure and it will detect the temperature by absorbing IR waves emitted. Because it doesn't have to touch the object it's measuring, it can sense a wider range of temperatures than most digital sensors: from -70°C to +380°C! It takes the measurement over an 90-degree field of view so it can be handy for determining the average temperature of an area.
Due to its built in low noise amplifier, 17-bit ADC and powerful DSP unit, a high accuracy and resolution of the thermometer is achieved. This well-known sensor with its 0.5℃ accuracy level has many applications in healthcare and industrial control.
Features :
Measurement resolution of 0.01°C.
Small size, low cost.
Factory calibrated in wide temperature range.
For sensor temperature :-40 to 125 °C.
For object temperature: -70 to 380 °C.
Operating voltage: 3.3 ~ 5V

.
High accuracy of 0.5°C over wide temperature range.
Power saving mode.
Automotive grade.
Applications :
Healthcare.
Body temperature measurement.
Movement detection.
Automotive blind angle detection.
High precision non-contact temperature measurements.

Home/Office Temperature Control

.

Industrial Thermal Gun

.