---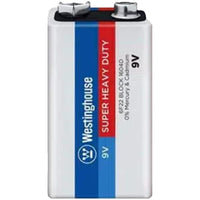 Introduction :
Westinghouse Super Heavy Duty Batteries deliver cost-effective power for a wide range of low drain devices
These reliable batteries are best for devices that do not need much power.
They provide good value for price conscious customers.
Features :
Non-Rechargeable battery
Grade: Super heavy duty
Voltage : 9 V.
Carbon Zinc.
Weight : 40 gm.