---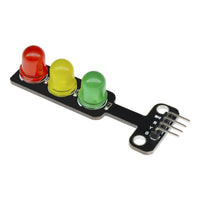 Introduction :
Mini traffic light module: high quality LED display module.
3 colours: red, yellow, green. Vertical location.
Input voltage/power supply: 5V.
Input: digital signal output from your Arduino or controller.
Interface: Common cathode connection, individually controls both red, green and yellow.
It can be controlled by PWM.
Input High or Low level from controller to make LEDs ON or OFF.
It just support controller to contorl.
This module includes large 8mm Red, Yellow and Green LEDs arranged like a typical traffic light that are useful for experimenting with traffic signals, using them on a railroad model or as some type of good/caution/bad status indicators for a project.
The modules have current limiting resistors built-in, so they can be connected directly to the pins of an MCU.
You can even plug it directly into the female header of most Arduino boards where you have 3 digital pins next to a ground, such as using the Uno pins 11, 12, 13 & Gnd.
The LEDs are lit when a logic HIGH is applied to the pins.
Module Connections:
1×4 Header
G = Green LED, active HIGH
Y = Yellow LED, active HIGH
R = Red LED, active HIGH
GND = Ground