---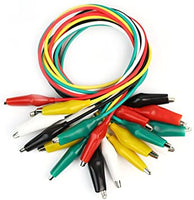 Introduction:
The max wide that alligator clips open is 10mm. Voltage: 1500V;Current:15A. 39.3 inches wire with nice rubber insulation cover and the alligator clips made of copper. The clips make it easier to grasp the battery you are trying to read, allows hands-free testing, great for remote spaces.
The wide for alligator test clips robust enough to be useful for testing circuits on your vintage cars, trucks and motorcycle, etc
This really is a great set of Jumper or Tester wires. High quality thick cables. Excellent leads that can be used to do a variety of electronic testing. It will works as intended in conducting electricity.
Each one is for 2.50 EGP.