---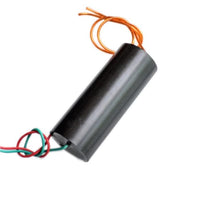 Introduction :

This high voltage module uses Tesla coil principle, output high voltage pulse and high voltage current.
It has small size, high efficiency, the external circuit is simple(just plug in the switch and battery), high intensity of discharge.


3.7V li-ion battery can be used single or two series, such as 18650, idle cell phone batteries ( to remove the for protection board, the proposed capacity of 2000mAh or more ) or NiCd / NiMH battery pack, 4V or 6V lead acid batteries.

This module input DC 3V-7.2V voltage, can output about DC200,000V voltage(about 1-2 cm arc), can be used for school science experiment, electronic equipment, negative ion generator, scientific small production.

Uses:
Commonly used in 105 high-voltage generator, high voltage ignition, teaching experiments.

Type: Step-up Power Module
Voltage: Input DC 3.6-6V, Output DC 400-600KV
High Type: Pulse Current
High Voltage Bipolar Discharge Distance: 10mm-20mm
Size(Diameter x Length): 24mm x 65mm/0.94" x 2.56" (Approx.)
Max Diameter: 24mm/0.94", Min Diameter: 22mm/0.87" (Approx.)


Features :
DC 3V-6V To 400KV Boost Step-up.

Easy to install and convenient to operate

The high-voltage module should avoid the use of electricity in high voltage no-load

Intermittent work, continuous work does not allow more than 1 minute and the

output side does not allow shorting.

Improper voltage and long working hours easily damage module.

Input voltage: DC 3V to 6V

Input current: 2A - 5A

High pressure type: the type of pulse current

Output voltage: 400KV (Please pay attention to safety)

High pressure discharge distance between: 10 mm - 20 mm

Wiring: Red and green power connection red line: ;+; green line ;-;

Output : the other side, same color cable