---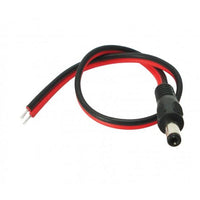 Introduction :
DC Barrel Jack  with wire( male) is a 5.5×2.1mm center-positive Female barrel jack connector.

You can use it when you have a power supply with a barrel jack and want to plug it into a breadboard, this will be the simple solution.
Features :
Connector : 5.5×2.1mm

male barrel jack.




Compatible with many DC wall power supplies

.
Wire Labelled Positive/Negative.