---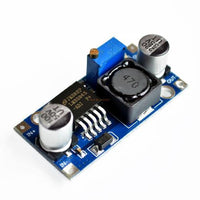 Introduction :
 It is LM2596S DC-DC Power Supply Step Down Module with Input Voltage Range is DC 3.2V~40V (the input voltage must be more than 1.5V higher than the voltage to be output.)

Output voltage range is DC 1.25V~35V continuous adjustable voltage with high efficiency (up to 92%); the output current can reach 3A.
Features :
Input Voltage: 3.2V ~ 40V.
Output Voltage: 1.25V ~ 35V(Adjustable).
Output Current: up to 3A.
Conversion Efficiency: up to 92%.
Switching Frequency: 150KHz.

Working Temperature: -45℃~ +85℃.