---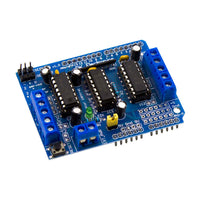 DC Motor/Stepper/Servo Driver Shield for Arduino (L293D) is a dual-channel H-Bridge motor driver capable of driving a pair of DC motors or single stepper motor.
The shield offers total 4 H-Bridges and each H-bridge can deliver up to 0.6A to the motor.
It can drive up to 4 bi-directional DC motors with individual 8-bit speed selection (so, about 0.5% resolution).
It can drive up to 2 stepper motors (unipolar or bipolar) with single coil, double coil, interleaved or micro-stepping.

Arduino reset button brought up top.
Features :
Compatible with Mega, UNO.