---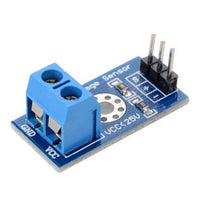 Introduction :
Voltage Detection Sensor Module 25V module is based on the principle of resistive voltage divider design, it can make the red terminal connector input voltage to 5 times smaller.Arduino analog input voltages up to 5 v. The voltage detection module input voltage not greater than 5Vx5=25V (if using 3.3V systems, input voltage not greater than 3.3Vx5=16.5V).
It has the limit of Arduino analog input 5 VDC only. So if you wish to measure higher voltages, you will need to resort to another means. One way is to use a voltage divider. The one discussed here is found all over Amazon and eBay. It is fundamentally a 5:1 voltage divider using a 30K and a 7.5K Ohm resistor.
Note: Keep in mind, you are restricted to voltages that are less than 25 volts. More than that and you will exceed the voltage limit of your Arduino input.
Features :
Dimensions: 28 x 14 x 13 mm(LxWxH).
Weight: 4 gm.
Input Voltage range: DC0 to 25 V
Voltage detection range: DC 0.02445 V to 25 V
Analog Voltage resolution : 0.00489 V
Output Interface : "+ " connected 5/3.3V, "-" connected GND, "s" connected Arduino AD pins
DC input interface: red terminal positive with VCC, negative with GND
You can also use the IICLCD1602 LCD to display voltage.
By 3P connector, connect this module with the expansion of board Arduino, not only makes it easier for you to detect voltage battery.