---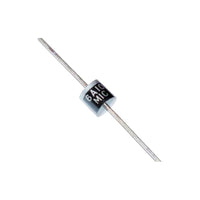 Introduction :
The 6A10 is a 1000 Volt 6 Ampere Power Diode provides uncontrolled rectification of power and are used in applications such as battery charging and DC power supplies as well as AC rectifiers and inverters.
Due to their high current and voltage characteristics they can also be used as free-wheeling diodes and snubber networks.
Features :
Model :  6A10 diode
Max current : 6A.
Peak Reserve Voltage : 1000 V.
Mounting : Through Hole.
Pin Count : 2.