---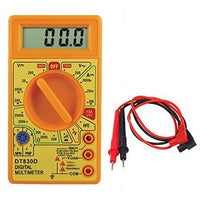 Introduction :
Digital Multimeter DT830D is an electronic measuring instrument that combines several measurement functions in one unit.
Digital Multimeter DT830D includes basic features such as the ability to measure voltage, current, and resistance.
Digital multimeters (DMM, DVOM) display the measured value in numerals, and may also display a bar of a length proportional to the quantity being measured.
Features :
Simple and easy, suitable for beginners.
With double fuse, safe and reliable
With test probe leads, a wide range of applications.
It's a perfect tool for the laboratory, factory, and home.
With a large LCD display, convenient to read data.
Low battery indication, continuity buzzer, and overload protection.
DCV: 200m-2000m-20-200-1000V±0.5%
ACV: 200-750V±1.0%
DCA: 20u-2000u-20m-200m-10A±1.8%
Resistance: 200-2000-20K-200K-2000KΩ ±1.0%
LCD size: 49x16mm