---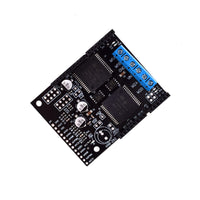 Introduction :
Dual VNH5019 motor driver operate from 5.5 to 24 V and can deliver a continuous 12 A (30 A peak) per motor, or a continuous 24 A (60 A peak) to a single motor connected to both channels.
Dual VNH5019 motor driver shield can be easily inserted into Arduino various compatible controllers, such as the commonly used Arduino UNO R3.
 Dual VNH5019 motor driver uses SMD surface mounted components, with the features of small size and light weight, which can easily control two bi-directional and high-power DC motors through the Arduino control.
Features :
Operating voltage : 5.5~24Vdc.

Output current : up to 12 A continuous (30 maximum) per motor.

Drive channels : Dual ( 2 way)

Maximum Current Rating: 30 A (for each motor).

Maximum PWM frequency: 20KHZ.

Input voltages : up to 41V.