---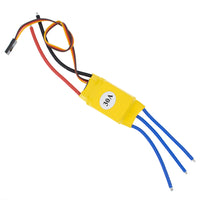 Introduction :
30A BLDC ESC Brushless Motor Electronic Speed Controller is specifically made for quadcopters and multi-rotors and provides faster and better motor speed control giving better flight performance compared to other available ESCs.
30A BLDC ESC ELECTRONIC SPEED CONTROLLER can drive motors which consume up to 30A current. It works on 2S-3S LiPo batteries. It has an onboard BEC which provides regulated 5V(2A max draw) to power the flight controller and other onboard modules. It can be used to control our brushless motors with a 2S-3S LiPo (make sure motor doesn't draw more than 30A).
This particular ESC is recommended with A2212 brushless motor (1000kv, 1400kv, 2200kv).
Features :
MODEL: STANDARD 30A BLDC ESC ELECTRONIC SPEED CONTROLLER
Color: Yellow
CURRENT (A): 30A
BEC: 3A
Li-Poly: 2-3
Ni-Mh/Ni-CD: 4-10 Ni-Mh
CONSTANT CURRENT: 30A Max 40A<10s
Li-Poly 2-3 CELLS; Ni-MH 4-10 CELLS Auto Detect
Break On/Off
Auto Low BATTERY Slow down at 3.0V/cell Lipo, cut-off at 2.9V/cell lipo

Size: 46mm x 26mm x 8mm

APPLICATION: Multirotors, Rc Airplanes, etc.




Safety arming feature: Regardless of the throttle stick position, the motor will not rotate after the battery is connected.
Throttle calibration function: Throttle transmission range can be calibrated to be compatible with different.
User Programming.
Multiple program modes supported: transmitter stick, LED program card. Very easy to program esc at home or in aviation.
Compatible with LiPo NiMH battery.
The timing can be changed to be suitable for different brushless motors.
Full protection: low voltage cut-off protection / over-temperature protection / throttle signal loss protection.