---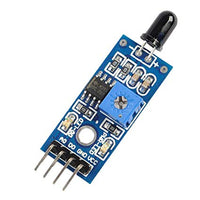 Introduction:
 Flame Sensor Module is used to detect  flame by detecting light that is in the infrared spectrum as produced  flame.
It uses M393 in an integrated circuit.
It can detect infrared light with a wavelength ranging from 700nm to 1000nm.
Features:
Detection angle : 60 degrees.

Detection range : up to 50 cm.

Operating Voltage: 3.3 V to 5 V.
Max Output Current: 15 mA.
Sensitivity :adjusted by potentiometer.

Indicator : LED
Output: Digital and analog.