---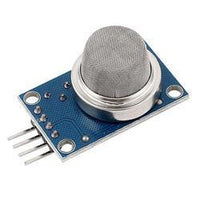 Introduction:
Gas Sensor(MQ5) module is useful for gas leakage detection (in home and industry). It is suitable for detecting  LPG, CH4, CO, Alcohol. Due to its high sensitivity and fast response time, measurements can be taken as soon as possible. The sensitivity of the sensor can be adjusted by using the potentiometer.
Gas sensor (MQ5)  has high sensitity to Methane, Propane and Butane, and could be used to detect both Methane and Propane. The sensor could be used to detect different combustible gas especially Methane, it is with low cost and suitable for different application.
Warning:
please use this sensor only in controlled experiments.
Flammable gases and fumes are very dangerous.
Features:
Working voltage: DC 5 V


Dual signal output (analog output, and TTL level output)
TTL output signal is low. (When low output signal light, and can be connected directly to the microcontroller)
0 ~ 5V analog output voltage, the higher the concentration, the higher the voltage.
Liquefied petroleum gas, natural gas, city gas, better sensitivity (affinity).


Fast response and recovery characteristics .

Applications:
Natural gas leakage.
Environmental protection.
Flammable gas detection.