---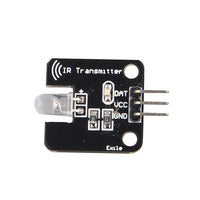 Introduction :

Infrared emitter module is a common, inexpensive, and easy to use wireless communication sensor. IR light is very similar to visible light, except that it has a slightlty longer wavelength. This means IR is undetectable to the human eye – perfect for wireless communication.
The module is mainly applicable to the remote control. It is widely applied in audio-visual products such as acoustics, television, video recorder, DVD player,  and household appliances like air conditioning, fan heater, fan, decorative lighting.
Features :
Power Supply:5V
Interface:Digital
Modulate Frequency:38Khz
Applications :
Infrared remote control.
Infrared communication.