---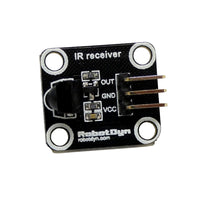 Introduction :
 Infrared Receiver is used to receive infrared signals and also used for remote control detection. There is an  IR detector on the Infrared Receiver which is used to get the infrared light emitted by the Infrared Emitter.
The module is mainly applicable to the remote control. It is widely applied in audio-visual products such as acoustics, television, video recorder, DVD player,  and household appliances like air conditioning, fan heater, fan, decorative lighting.
The IR detector have a demodulator inside that looks for modulated IR at 38 KHz. The Infrared Receiver can receive signals well within 10 meters.
This infared receiver uses Veshay TSOP382 IR Receiver Modules for Remote Control Systems.
Applications:
 Television.
Video recorder.
DVD player,
Household appliances  (air conditioning, fan heater, fan, decorative lighting.)