---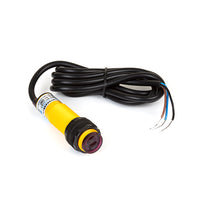 Introduction:
The Infrared Proximity Sensor (E18-D80NK) is a digital proximity sensor uses an infrared LED and receiver to determine the presence of an object within a specific distance. These make great obstacle detectors and can also be used as an optical gate or in positioning applications where stopping at certain distance is needed. Mounting this sensor is quite easy – it has a long threaded body allowing for a considerable adjustment.
The sensor was originally designed to automate the counting of objects moving along a production line, but it works equally well as an obstacle avoidance sensor on a robotic vehicle or any other applications where detection of objects or obstacles within its range is desired such as for a security system or monitoring a pet door.
Detection range is approximately 3-80cm.  The range is adjustable using a multi-turn screw on the back of the sensor body.
Features:
 Output :NPN


Supply Voltage : (5VDC)

Input Current : 25mA

Max Current : 100mA

Diffuse reflective type
Light source: Infrared
Connections :
Brown wire:   voltage supply (5 V)
Blue wire: Ground
Black wire: output signal