---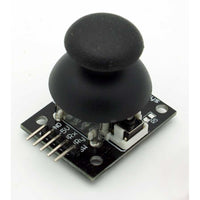 Introduction :
Joystick Module (4 Directions) compatible to interface with Arduino or with most microcontrollers.
This module produces an output of around 2.5Vfrom X and Y when it is in resting position.
Moving the joystick will cause the outputto vary from 0v to 5V depending on its direction
Auto return to center position.
Pinout :
Features :
Operating Voltage: 5V.
Internal Potentiometer value: 10k.
2.54mm pin interface leads.