---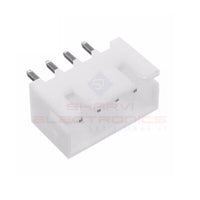 Introduction :
JST-XH 4 Pin Connector (4 Pin Male  Polarized Connector) Polarized connectors and headers for your perf board/PCB projects.
Use these connectors for power connections or any sensor/general connection to prevent users from connecting the peripheral incorrectly or reversed.
he male connector has a spacing of 0.1′(2.54 mm) and can be easily soldered onto a standard prototype board.
Features :
Current Rating: 3A

Voltage Rating: 250V

Connector Type: Header

Contact Type: Male Pin

Connector Type: JST-XH 4 Pin Connector (4 Pin Male Relimate Polarized Connector)

Operating Temperature: -25°C ~ 85°C

Mounting Type: Through Hole

Number of Positions: 4

Number of Rows: 1

Pitch: 2.54mm