---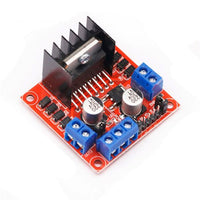 Introduction :
L298 Dual H-Bridge Motor Driver (2A) is based on the L298N heavy-duty dual H-bridge controller, which can be used to drive two DC motors at up to 2A each, with a voltage between 5 and 35V DC - or one stepper motor.
Connections :
Features :
Logical voltage : 5V.

Motor supply voltage : 5V-35VDC.

Drive current : 2A (MAX single bridge).

Chip : L298N.

Max power : 25W.

Dimensions : 43 x 43 x 27mm.

Weight : 30g .