---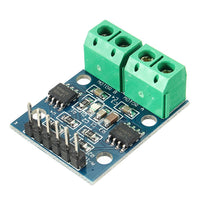 Introduction :
L9110 Motor Control Driver is a dual channel motor driver controller board, which can control two DC motors, or a single four-wire two-phase stepper motor.
The circuit uses the L9110 integrated circuits (IC), which consist of H-Bridge drivers.
The L9110S IC has TTL / CMOS compatible I/O, which interfaces with Arduino and Raspberry Pi computer boards. A minimum of 2.5 V is required to represent a high logic at the inputs IA and IB.
The voltage that you provide to power the IC is the same as that which powers the motor. Hence, this IC operates on a wide supply range (Vcc) from 2.5 V to 12 V. If you were to be using 6 V motors, then obviously, that is the voltage to provide the IC.
This IC provides up to 800 mA continuous drives current to drive a load, however it does not have a heatsink, making it more suitable for low power loads.
If you draw more current through it, then it will start to heat up and smoke. Its maximum operating temperature is 80 ºC, and power dissipation is critical.
Connection :
Features :
Operating voltage : +2.5V ~ +12V

Onboard dual L9110S chipset motor driver

TTL / CMOS output level compatible

Driving Current : 800mA (per channel)

Peak Output Current: 2A (per channel)

Drive for two DC motors or a 4-wire 2-phase stepper motor

Operating temperature: 0 °C-80 °C

Output built-in clamp diodes for inductive load