---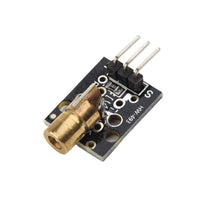 Introduction :
Laser Diode Module is a breadboard friendly and low cost.The use of this Laser Module 650nm 5V is quite simple, and it may be used to create fascinating application devices such as a controllable laser pointer, theft detection system, etc.
The laser head is made up of a light-emitting tube, a condenser lens, and an adjustable copper sleeve.
When it is delivered, it is assembled and the focal length of the lens is adjusted before being glued with a strong glue stick so that it can function right away after being connected to a 5V DC power source.
Features :
Operating Voltage (VDC) : 3-5 v

Laser Output Type : Red Laser Straight.

Line Length : 135 mm.

Max. Operating Current (mA): 40