---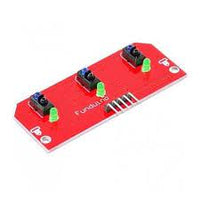 Introduction:
Line Follower Tracking Module 3 Channels
This module uses Infrared to detect the line so it has anti-interference ability, visible light will not interfere its operation.
The TCRT5000 is a reflective sensor which include an infrared emitter and phototransistor in a leaded package which blocks visible light.
It has indicator LEDs on it, when tracing sensor senses a key signal, LED lights, otherwise off.
Features:
 

High sensitivity

Stable performance

Operating voltage 5V

Output low black line, a white line output high

Exquisite workmanship, with indicator

With fixed bolt hole for easy installation