---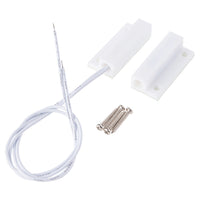 Introduction :
With Magnetic Door Switch it is possible to monitor unauthorized opening of doors as well as side panels.
Magnetic Door Switch comprises two parts the magnet and a magnetically sensitive switch.

When the door is closed the two pieces should be in close contact of each other. When the door opens this distance increases,
Depending on your setup and what mode your system is in, this could be a discreet text, a chime alert, or a full-blown alarm.

Features :
Max Voltage : 100 VDC.
Max Current : 100 mA.
Max Rating : 10 W.
Gap Distance : 20 -25 mm.