---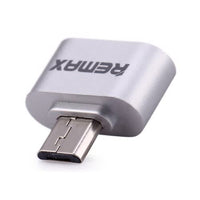 Introduction :
OTG Usb flash driver for smart phones and tablets.
Used to convert from Usb type a to micro Usb.
Can be used to display usb microscope to your smart phone.
Micro USB 2.0 OTG at speed up to 480Mbps adapter lets you connect USB On-The-Go capable tablet or smartphone to USB devices, such as USB mouse, keyboard or thumb drives, etc.
You can enjoy watching movies or listening to music from your hard drive, browsing internet or editing files with keyboards and mouse, and transferring files using flash drives with this portable OTG adapter.
It offers a convenient way for quick and easy data reading and backup without host.
Features :
Color : Silver.
Type : USB
Capability : Mobile Phone/Tablet/Laptop.