---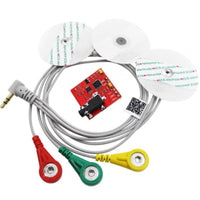 Introduction :
This sensor will measure the filtered and rectified electrical activity of a muscle, depending the amount of activity in the selected muscle.
By detecting the electromyogram (EMG), measuring muscle activity has traditionally been used in medical research, however with shrinking but more powerful microcontrollers and integrated circuits advent EMG power Road and sensors can be used for various control systems.
Sensor will measure electrical activity of the muscle output 0-Vs volts, the output size to take Depending on the amount of muscle activity is selected.
Connections :
Features :
Specially Designed For Microcontrollers.

Adjustable Gain.

3.5mm Connector.

Breadboard Compatible.

Power supply voltage: min. +-3.5V.

Small Form Factor

.