---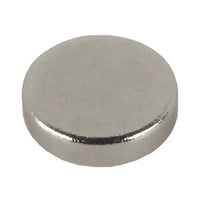 Neodymium Magnet  (NdFeB ) is a rare-earth magnet made from an alloy of Neodymium, Iron and Boron to form the Nd2Fe14B tetragonal crystalline structure.
They have replaced other types of magnets in many applications in modern products that require strong permanent magnets  and magnetic fasteners such as electric motors in cordless tools,hard discs drives.

Features :
Dimensions:  18 mm.
Direction of magnetisation: Axial.

 Max.temperature : 80° C.

Quality of magnetisation : N42.

Material :Neodym.

Coating : Nickel (Ni-Cu-Ni).