---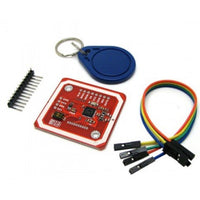 Introduction :
NFC, in short for Near Field Communications is a technology standard based on Radio Frequency Identification (RFID), transmitting information wirelessly over short distances.
This module is built around NXP PN532.
The module is equipped with onboard antenna, thus no external antenna coil is needed. It is compatible with SPI, IIC and UART interface for communication. With NFC library support for Arduino.
This feature is available in the latest high end smart phones present in the market
Features :
80C51 microcontroller core with 40 Kbyte ROM and 1 Kbyte RAM.
Work as RFID reader and writer.
Operating  voltage: +2.7V to +5.5V.
Supported host communication: SPI Interface, I2C Interface and High Speed Serial UART
Communication distance : 5cm to7cm.

Applications :
Security systems.
Smart Phones and Smart devices.
Robotics.
protection systems.