---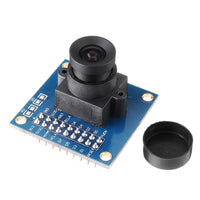 Introduction :
OV7670 is a low CMOS image sensor and a VGA camera with a low operating voltage that provides the full functionality of a single-chip VGA camera and image processor in a small package
Through an SCCB (Serial Camera Control Bus) control, It provides full-frame, sub-sampled, and windowed 8-bit images in a wide range of formats.
This camera module has an image array that can reach up to a maximum of 30 frames per second in VGA with complete user control over image quality, formatting, and output data transfer.
All the functions or processes of image processing like exposure control, white balance, gamma, color saturation, hue, chroma, etc can be controlled and programmed through SCCB control. 
It has a high sensitivity suitable for illumination applications.
Features :
Photosensitive array: 640X480
IO Voltage: 2.5V to 3.0V (internal LDO for nuclear power 1.8V)
Power operation: 60mW/15fpsVGAYUV
Sleep: <20μA
Temperature Operating: -30 ℃ to 70 ℃
Stable: 0 ℃ to 50 ℃
Output Formats (8): YUV/YCbCr4: 2:2 RGB565/555/444 GRB4: 2:2 Raw RGB Data
Optical size: 1/6 "
FOV: 25 °
Maximum Zhen rate: 30fps VGA
Sensitivity: 1.3V / (Lux-sec)
SNR: 46 dB
Dynamic range: 52 dB
View Mode: Progressive
Electronic Exposure: 1 line to 510 line
Pixel Size: 3.6μm x 3.6μm
Dark current: 12 mV / s at 60 ℃