---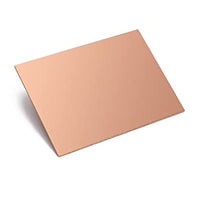 Introduction :
PCB FR4 (10X15 cm) is a  Printed Circuit Laminate Board Single Sided Copper Clad PCB Fiber.
This product might have few fingerprints,you can clean by super-fine steel-wool,windex or Scotchbrite before using.

Features :
Size : 10x15 cm.
Thickness: 1.5mm.
Layers: Single Side.
Operating Temperature: Up to 140 °C.