---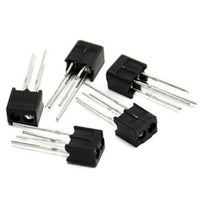 Introduction:
 photo reflective sensor emits a light beam (visible or infrared) from its light-emitting element.
A reflective-type photoelectric sensor is used to detect the light beam reflected from the target.
A thrubeam type sensor is used to measure the change in light quantity caused by the target crossing the optical axis.
Upper left: diode's anode

Lower left: diode's cathode

Upper right: phototransistor's collector

Lower right: phototransistor's emitter
Applications:
Timing sensors.
Edge sensors.
Disc drivers.
Liquid level sensor.