---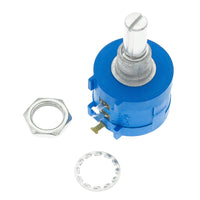 Introduction :
 Precision Potentiometer is multiturn which is designed for control applications where accuracy and high reliability is of major concern.
Typical applications are measuring linear distance, angle or rotation in production equipment 
Features :
Power Rating : 2W.




Resistance : 10 Kohm.

Turns : 10.




Type :  Precision.



Tolerance : 5%.

Application :
Used to adjust speed, temperature and timers in equipment.